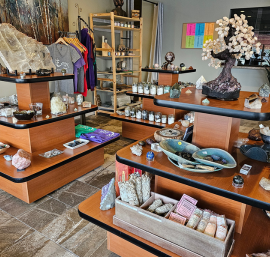 Rocks and Crystals
Rocks and crystals all have different properties associated with each kind. They work on a vibrational scale and can be used in energy sessions, for meditations, or just to keep with you through the day or display in your home or office.
Chakra & Aura Biofeedback Report
Entouch offers the Aura Video Station 7® which measures and displays biofeedback data such as your aura image. This software displays biofeedback readings instantly on your chakra strengths, emotional state, overall aura color, biodata energy levels and much more. This is provided to you on a 1 page readout or in a 22 page full report that is easy-to-read and contains detailed graphs and more. Add it on to your appointment to receive a treatment based on recommendations from your readout.
Malas
Mala beads are used in meditations. The full mala is made up of 108 beads, We also offer wrist malas to use both in meditations, and to be worn as a reminder of certain mantras or properties of the beads. Our Malas are made in store. Custom orders are available.
Sage and Incense
Sage smudge sticks are available in various sizes, along with stick and rope incense. Sage is used to clear and cleanse energies from a person, space or item, along with purifying the air. Sage and incense are also used in meditation or just to make a space smell good.
Essential Oils and Diffusers
Entouch offers many essential oils for your aromatherapy needs. You may purchase full bottles of essential oils, or pay per drop and create your own rollers, massage oils, bath salts and more! Diffusers are also available for misting the oils into your space.
Foam Rollers
Looking for a way to relieve muscle tension in between massages? Foam rollers are great tools to use for those tense areas of the body. You can use them for self massage along with other core exercises for the body.
Yoga Mats
Entouch is a supplier of Jade & Manduka Yoga Mats. They are eco-friendly rubber mats, and with each purchase, a new tree is planted. They come in many different colors and longer lengths are available.
Medicinal Teas
Health King, now Bravo Tea, is a line of teas that help with certain ailments of the body. From a Triple Stress Relief to Cholesterol Health, experience what chinese herbs can do for you.